Our District News
Welcome friends and family members of BUSD #40. We appreciate your interest in the many events going on in the district. On this page, we will share all activities that take place, provide helpful information, and highlight student and school accomplishments. We will be updating our news regularly, so we invite you to visit this page often.
Public Hearing and Board Meeting Notice
Baboquivari Unified School District is having a public hearing and board meeting to adopt its Fiscal Year 2023 expenditure budget on Tuesday, July 12 at 5:15 p.m. in the board room of the administration building. Please see our July 12, 2022, meeting notice for more information.
Student Registration Information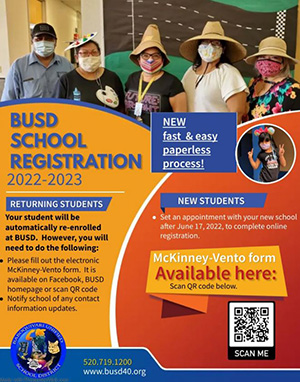 Returning Students: If your child is returning to BUSD next school year, all you have to do is scan the QR codes to fill out the BUSD McKinney-Vento form for 2022–2023 and the 2022–2023 student contact information form. That's it! Easy peasy... paperless, painless and quick!
If you are unable to scan the QR codes, click on both links below to fill out the forms:
For any new students wishing to attend BUSD, more information will be coming after June 17, 2022, for online registration. You can stop by now at the school offices to fill out a paper packet.