Exceptional Student Services
Our Exceptional Student Services Department addresses the needs of students who are special learners. Our dedicated professionals are committed to providing effective educational programs and support services that meet the needs of all our students.
Phone: (520) 719-1200
Fax: (520) 383-5441
Announcements
Arizona Youth Leadership Forum (AZYLF) 2023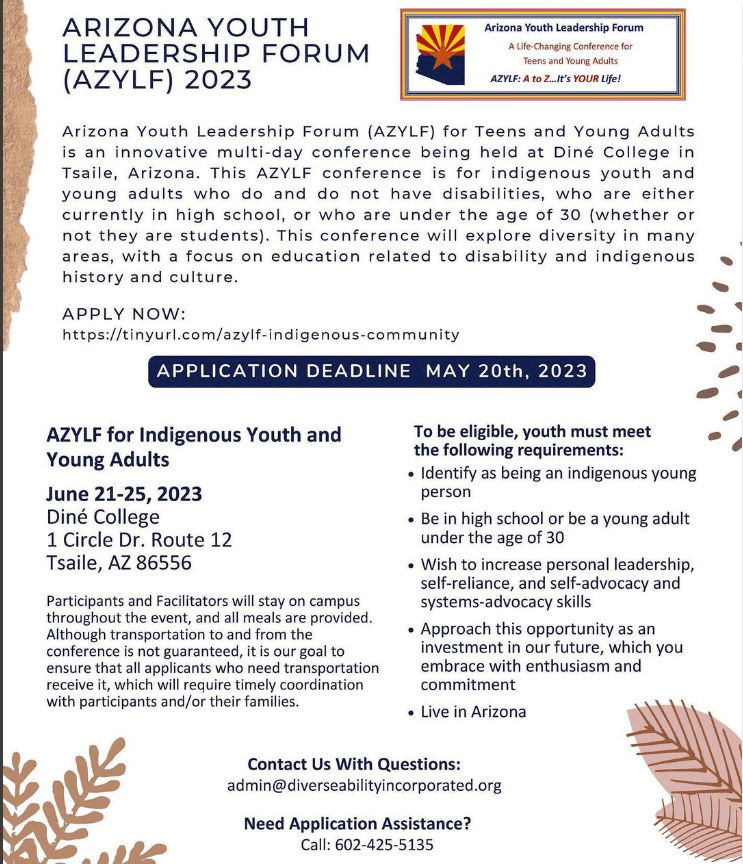 Arizona Youth Leadership Forum (AZYLF) for Teens and Young Adults is an innovative multi-day conference being held at Diné College in Tsaile, Arizona. This AZYLF conference is for indigenous youth and young adults who do and do not have disabilities, who are either currently in high school or who are under the age of 30 (whether or not they are students). This conference will explore diversity in many areas, with a focus on education related to disability and indigenous history and culture. Apply now! The application deadline is May 20, 2023.
AZYLF for Indigenous Youth and Young Adults
June 21-25, 2023
Diné College
1 Circle Dr. Route 12
Tsaile, AZ 86556.
Participants and facilitators will stay on campus throughout the event, and all meals are provided. Although transportation to and from the conference is not guaranteed, it is our goal to ensure that all applicants who need transportation receive it, which will require timely coordination with participants and/or their families.
To be eligible, youth must meet the following requirements:
Identify as being an indigenous young person
Be in high school or be a young adult under the age of 30
Wish to increase personal leadership, self-reliance, and self-advocacy and systems-advocacy skills
Approach this opportunity as an investment in our future, which you embrace with enthusiasm and commitment
Live in Arizona
If you have any questions, please email us. If you need application assistance, call (602) 425-5135.
Native Center for Disabilities
The University of Arizona Sonoran Center for Excellence in Disabilities is proud to announce new initiatives to address unmet needs for people with intellectual and developmental disabilities in tribal communities across Arizona. Read more about it in the Native Center for Disabilities flyer.
Summer Work Program
There will be a summer work program for students with disabilities between the ages of 16 and 22, VR client or VR eligible. This is a paid opportunity with up to 20 hours a week. Get a job near you and receive support to help you succeed! See the Summer Work Program 2023 flyer for more information. Or you may email or call (520) 626-0442. Apply today!
Stronger Together
When the Sonoran Center for Excellence in Disabilities enters into a partnership with another organization, we strive to ensure that everything is done in the spirit of collaboration. Rather than imposing our own ideas of what works, we keep communication open at every opportunity so that our partners can best inform us of what they need, and we can work towards a solution together. Please visit the Sonoran Center for Excellence in Disabilities website to learn more about this partnership.
ESS Administration

Dr. Janice Pettigrew
District Psychologist/Interim Exceptional Student Services Director


Sanisa Gilmartin
Front Receptionist & ESS Clerk

ESS Teachers
Indian Oasis Elementary School Primary
Kathleen Crane
Speech Pathologist

Aurora Cupis
ESS Resource Teacher

Jessica Gambrell
ESS Resource Teacher

Lacy Humeyestewa
ESS Paraprofessional

Valerie Valdez
504 Officer

Jeanne Rodriguez
Occupational Therapist

Indian Oasis Elementary School Intermediate
Carol Castillo
ESS Resource Teacher

Kurtisha Flannigan
504 Officer

Janece Hendricks
ESS Paraprofessional

Kenton Tiokasin
ESS Paraprofessional

Andrea Parra
Speech Pathologist

Jeanne Rodriguez
Occupational Therapist

Charicel Roque
ESS Resource Teacher

Patricia Woods
ESS Resource Teacher

Baboquivari Middle School
Nerissa Birdsell
ESS Self Contain Teacher: Baboquivari Middle and High School

Margaret Dodson
ESS Self Contain Teacher: Baboquivari Middle and High School

Kagran Franco
Speech Pathologist

Martha Hernandez
504 Officer

Rachael Javidan
Baboquivari Middle ESS Resource Teacher

Pam Pancho
ESS Paraprofessional

Jeanne Rodriguez
Occupational Therapist

Kenneth Wilson
ESS Paraprofessional

Baboquivari High School
Nerissa Birdsell
ESS Self Contain Teacher: Baboquivari Middle and High School

Nicholas Coalson
Baboquivari High ESS Resource Teacher

Margaret Dodson
ESS Self Contain Teacher: Baboquivari Middle and High School

Kagran Franco
Speech Pathologist

Agnes Guiteng
ESS Resource Teacher

Martha Hernandez
504 Officer

Pam Pancho
ESS Paraprofessional

Jeanne Rodriguez
Occupational Therapist

Kenneth Wilson
ESS Paraprofessional

Indian Oasis High School & Middle School
Kagran Franco
Speech Pathologist

Justin Frago
ESS Resource Teacher

Jeanne Rodriguez
Occupational Therapist

Gifted and Talented Education