Our Core Values
The Baboquivari Unified School District Governing Board believes in a high-quality education for all the students in our district. The board works each day to ensure that we have hired highly effective teachers and staff who care and are committed to the children of the Tohono O'odham Nation. Board members work as a team to approve resources that will support teachers, principals, and departments with the necessary resources to be efficient and productive as well as ensure we are fiscally responsible to our public and the students we serve.
With this in mind, the governing board proudly embodies our vision, mission, core values, and purpose in their journey of communicating our focus on students first.
Vision and Mission Statements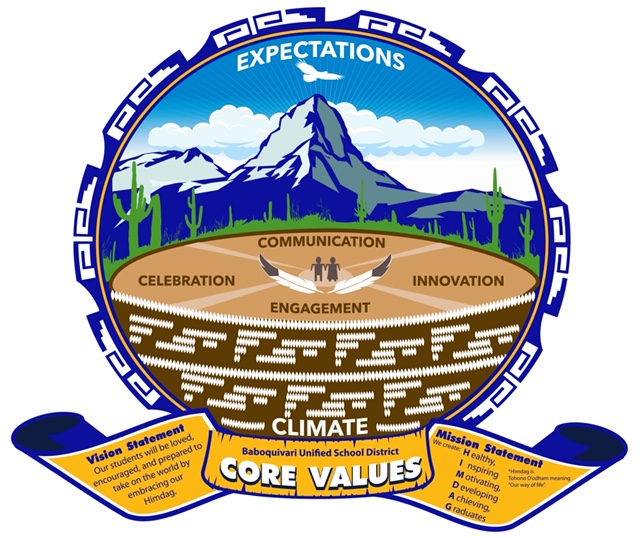 Vision Statement
Our students will be loved, encouraged, and prepared to take on the world by embracing our Himdag.
Mission Statement
We create:
Healthy
Inspiring
Motivating
Developing
Achieving
Graduates
*Himdag is Tohono O'odham meaning "our way of life."
Core Values
We believe our learning community supports:
Student Focused Expectations
Responsive Climate
Valuable Communication
Transformative Innovation
Meaningful Engagement
Genuine Celebration
Purpose Statement
We create a positive academic impact on every child's life, everyday; with an additional commitment to support the Tohono O'odham culture and language.